TRUST THE PELHAM LANDSCAPING LAWN CARE EXPERTS
With over 35 years of combined experience, the lawn care specialists at Pelham Landscaping are well-versed in the best practices to guarantee your lawn is the envy of the neighborhood. Whether it's mowing, fertilization, weed control, aeration, or overseeding, we provide comprehensive lawn care services to keep your yard vibrant, green, and the best in your community. Together, we'll maintain the beauty and health of your lawn throughout the entire season
WEED CONTROL & FERTILIZATION
THE RIGHT CHOICE FOR YOUR LAWN – PELHAM LANDSCAPING
Whether you need complete lawn care or just want to get rid of those persistent weeds, the Pelham Landscaping Programs are tailored to meet your budgeting needs. Each full lawn care program ensures your lawn receives the essential nutrients for sustained growth, a lush green color, and effective weed management throughout the entire growing season.
RECOMMENDED LAWN CARE PROGRAM
Spring Application – A heavy rate of balanced liquid fertilizer, pre-emergent crabgrass control, and post-emergent broadleaf weed control as needed.
Late Spring Application – Balanced liquid fertilizer and broadleaf weed control as needed.
Mid Season Application – Balanced slow-release granular fertilizer and broadleaf weed control as needed.
Fall Application – Liquid application of slow-release fertilizer and broadleaf weed control as needed.
Winterizer Application – A dry application of balanced potash and nitrogen for winter health and early spring green-up.
ORGANIC PROGRAM
Our organic program at Pelham Landscaping incorporates the finest organics and natural components to deliver optimal results while focusing on soil enhancement and plant health.
PREVENTATIVE GRUB CONTROL
PREVENT FUTURE LAWN DAMAGE BY PREVENTING GRUBS
Insect larva can cause a tremendous amount of damage in a short period of time. Preventative Grub Control lawn care treatments are the best method to provide your lawn with an initial barrier of protection. This application provides up to three months of control over a variety of surface and sub-surface feeding larvae. If your lawn is already showing the signs of a grub infestation that has progressed too far for preventative grub control, it may be necessary to utilize curative control. We recommend a preventative grub control application with our lawn care program to reduce the impact of grub activity on your lawn.
DOG SPOT PREVENTER PROGRAM
Introducing our Dog Spot Preventer Program, a comprehensive three-step lawn care solution designed to rectify areas where your dog's urination has caused unsightly brown patches on your grass. Our gypsum treatment effectively neutralizes the elevated salt content in these spots, facilitating the return of your grass to its vibrant green state. This treatment is also highly effective in areas of your lawn that have suffered damage from the salt used on sidewalks during the winter months. For optimal results, we recommend three applications per year.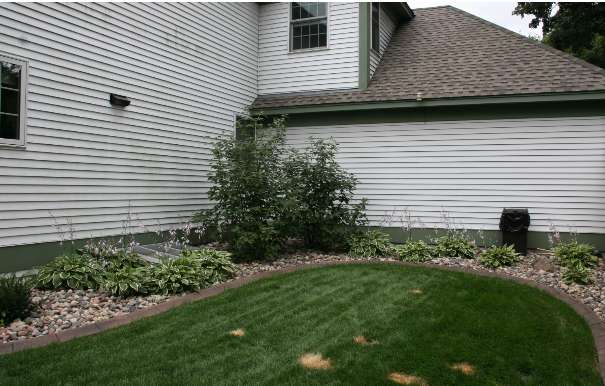 The prevalent weed varieties in our region encompass broadleaf weeds such as dandelions and grassy weeds like crabgrass. Additionally, we encounter both perennial and annual weeds, each following distinct life cycles. Notably, the most challenging to manage are the summer weeds in Wisconsin and Minnesota. Rest assured, we have tailored strategies and lawn care solutions to effectively address the diverse spectrum of weeds commonly found in our local lawns.